The Garmin Lily is a stylishly designed smartwatch with a lens that reveals a bright touch screen with a single wrist movement. The touch screen disappears when you have finished.
An elegant smartwatch
This elegant smartwatch is the first Garmin product of its kind with an incredibly small watchcase and a stylish patterned lens. Simply touching the screen or moving your wrist brings up a bright colourful touchscreen. The Garmin Lily is equipped with a monochrome LCD touchscreen. To extend the battery life, the watch screen is not always active – the screen wakes up when you lift your wrist or touch the screen. When the screen goes off, there is no emptiness on the wrist, but a beautiful patterned design. Its battery lasts for up to five days in smartwatch mode, and thanks to its waterproof case, you can leave it in your hand while swimming, showering or visiting the spa.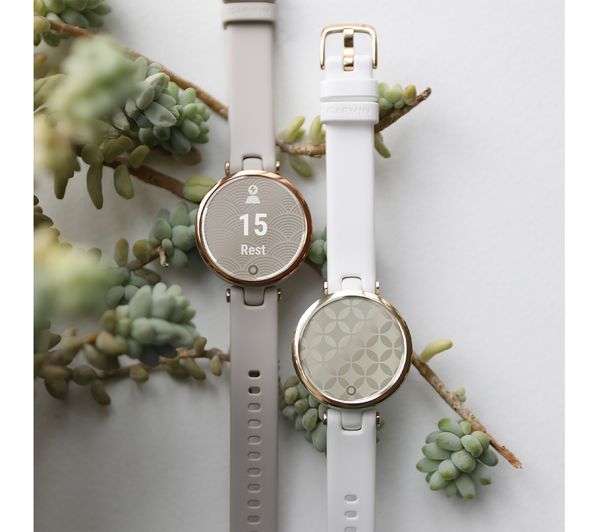 Features
Waterproof
Battery life up to 5 days
Heart rate monitor
Body analysis
Overview of your sleep
Smart notifications
Activity and health monitoring
Safety and monitoring functions
What's in the box?
The box contains a Garmin Lily smartwatch, a USB charging cable and a user manual.